Hours
Monday

8am-7pm

Tuesday

8am-6pm

Wednesday

8am-6pm

Thursday

8am-7pm

Friday

8am-6pm

Saturday

8am-4pm

Sunday

Closed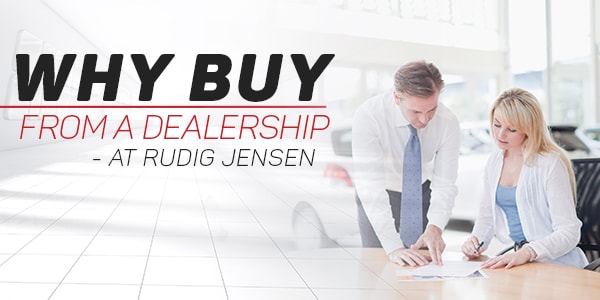 Shopping for a new ride can be difficult, especially when you're faced with all the decisions that go into researching and finding a car. One of these decisions might be whether or not to purchase a vehicle, regardless of new or used, from a dealership or from a private seller. There are positives to both, but when it comes down to it, buying a vehicle from a dealership is going to be significantly more secure and reliable than purchasing a new ride elsewhere.
The main reason why people buy from a third party or a private seller is for the price. Oftentimes, cars bought under these circumstances are priced using Kelley Blue Book recommendations, and even then the seller can be swayed more than a dealership during negotiations. However, in this case, you typically get what you pay for-private sellers are exempt from state and federal laws regulating the sale of cars, they aren't required to have the vehicle maintained or inspected beforehand, and you don't get a warranty, either.
New and used cars alike sold by dealerships often will be a little bit higher in terms of price, but the extra cost is worth it. As mentioned before, dealerships have to follow mandated state and federal legal restrictions, so you're legally protected from buying a junker that's been dressed up to look decent. Most dealerships have their vehicles inspected and, if necessary, repaired, and there are warranty options, too. Additionally, dealerships handle most of the paperwork, which is one less thing you have to worry about.
Overall, going to a dealership, like Rudig Jensen Ford Chrysler, in order to buy a vehicle is more reliable. When you're willing to part with a little bit of extra cash - which can also be negotiated with the dealership - you get the kind of service, security, and treatment you deserve from trained specialists who know what they're doing.
Make an Inquiry
* Indicates a required field